In the existing technology, the test results of the octane rating engine unit are affected by ambient pressure. The output test results of the octane rating engine unit are not the final results. The results also need to be compensated by looking up the table according to the ambient pressure at that time. The existing technology is realized by manual lookup of the external barometer reading by the experimenter. As a result, the workload of testers is increased, the error probability is increased, and the test efficiency is greatly reduced. At the same time, the precision of test results is also affected by the test and compensation calculation.
The automatic compensation system of octane rating engine unit with SXCP panel
Sinpar provides a real-time automatic compensation system with the built-in Barometer for compensation of ambient air pressure used in octane rating unit to solve the technical problems existing in the above-mentioned technologies. It can automatically obtain the test results with more accurate after real-time compensation of ambient air pressure, thus greatly improving the convenience of the instrument operation, improving the octane number test efficiency and precision, and reducing the human-error probability.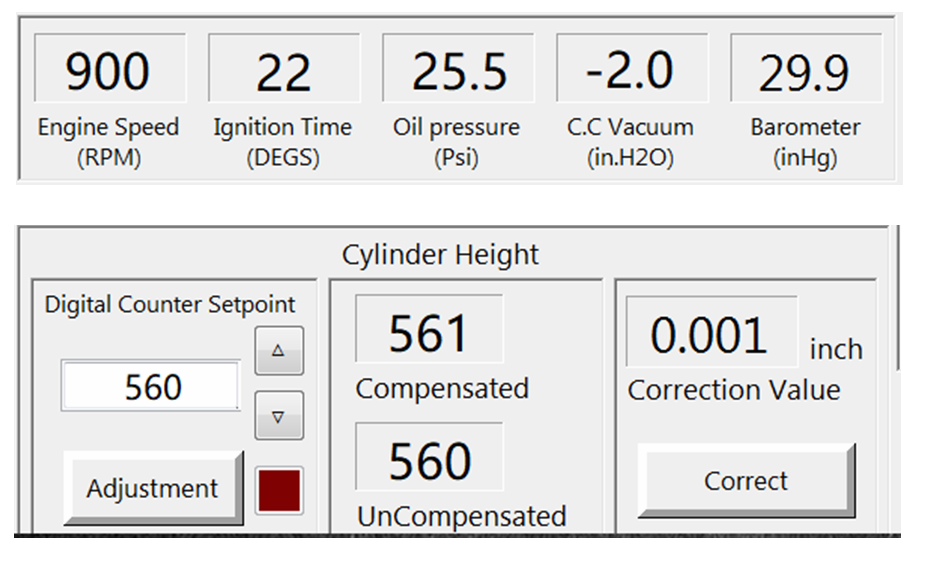 The Cylinder Height is automatically set according to "ASTM Test Method", "Barometric Pressure" and "Fuel Setup".
Click the button of "Adjustment" to adjust the cylinder height to set value of Digital Counter.
If need to set it manually, click the white value area of "Digital Counter Setpoint" to fill in the required counter value using the "Numeric Keyboard", then click the button of "Adjustment" to adjust the Cylinder Height.
It allows the user to change the adjustment incrementally by clicking the up and down arrows.
Compensated and Uncompensated Values are displayed. Just click the button of "Correct" to adjust the "Correction Value".