SINPAR FTC-AD1 Automatic Octane Cetane Reference Fuel Blending Unit is increasingly becoming a must-have in octane/cetane testing laboratories. With the automatic calculation and blending control program, it makes the octane/cetane reference fuel blending more accurate, faster and without human error, and saves you a lot of time.
The operation of FTC-AD1 Automatic Octane Cetane Reference Fuel Blending Unit is very simple and effective through a touch computer panel with the installed professional blending software. The software was developed by SINPAR specifically for fuel blending. It is simple, clear, easy to use and requires no training.
Octane/Cetane Reference Fuel Blending Operation
The computer and balance will automatically start when the blending unit is switched on.
The blending software program will automatically start, load and enter the main screen. The blending unit now is ready to begin octane or cetane blending or perform the other operation.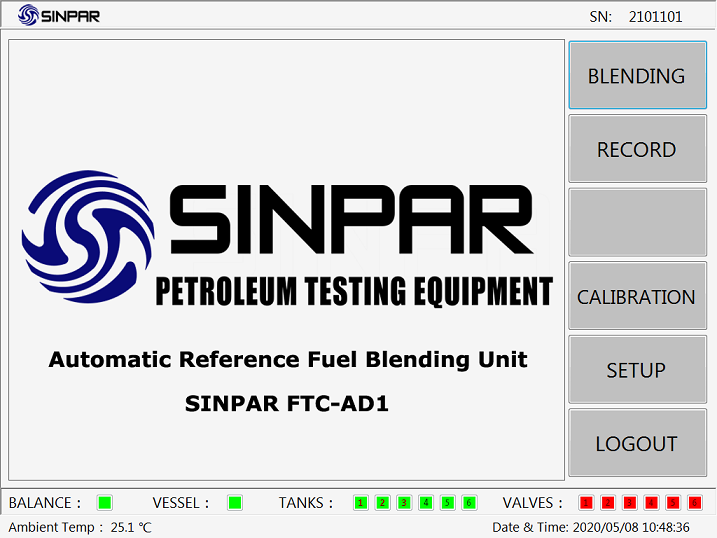 To begin octane/cetane blending operation, press the "BLENDING" button in the "MAIN MENU" to select BLENDING mode.
Note: Please pay attention to the state indications of BALANCE, VESSEL and TANKS at the bottom of the interface before the blending operation begins.
Select the Octane Blending or Cetane Blending by pressing the "OCTANE" or "CETANE" button.
Select the Octane/Cetane Blending Mode, enter the target blending values.
Note: When the target values are input or selected, the parameters of the required fuels, including the fuel type, volume, density and weight, are automatically displayed for reference. Using the standard density values stored in the database, the amount in grams will be calculated. The order in which the components are added will depend on their amount.
Press the "START" button to start blending. The automatic computational control system controls the whole blending process. An accurate blend will be delivered to the vessel automatically.
Note: Free Blending Mode is provided for special fuels blending.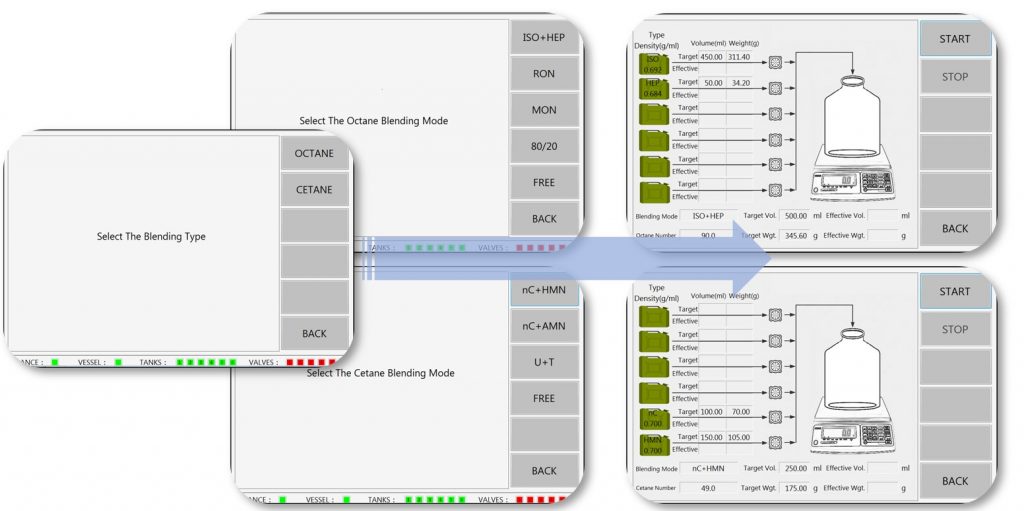 The blending data is automatically saved in the computer as the blending process is complete. To view the data and print the blend certificate, please back to the main menu and press the "RECORD" button.
The blending certificate can be printed or saved to computer or mobile storage device, containing all necessary data:
• Serial number of the blend given by the computer
• Blending model
• Date, time
• Ambient Temperature
• Target octane/cetane number, blending volume, density and weight
• Effective blending volume, density and weight
• Consumption of blending components