Sinpar Automatic Reference Fuel Blending System is currently an essential option for octane & cetane testing according to the latest ASTM D2699&D2700 and ASTM D613 standard test methods. The automatic reference fuel blending system delivers the octane/cetane blends quickly and accurately. This system completely eliminates the human error, makes the octane/cetane testing more efficient, and makes the test results more accurate and reliable. It is now widely accepted and used in laboratories in many countries and regions.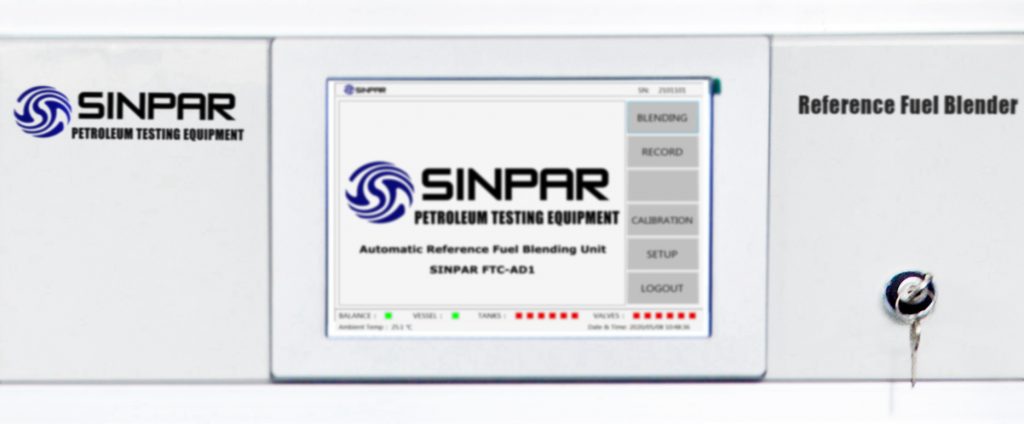 Recently, Sinpar R&D center has updated and upgraded the operating software equipped with the automatic reference fuel blending system. Based on the previous version, the new operating software has been comprehensively improved and optimized in terms of safety system, precise control system and automatic external filling system.
Comprehensive Safety System
The new software provides a more comprehensive safety alarm system, including real-time monitoring of temperature, tank fuel level and warning prompts.
Precise Blending Control System
More precise control of the balance and dosing pumps makes the fuel blending more accurate and stable.
Automatic External Filling System
The automatic filling from the external tank into the internal tank is controlled by system. When the fuel level of a tank is insufficient, the external filling will automatically start. And it will automatically stop when filling up.
The manual external filling is also allowed. The operator just needs to press the button of the corresponding external pump on "External Filling" interface to start filling. And the external filling will automatically stop when the tank is full.
Note: The external filling option is not included in the standard system unit.
Make sure the external tanks are connected to the corresponding internal tanks and are under nitrogen pressure, before performing external filling.
For more details about Sinpar automatic reference fuel blending system, please contact your local distributor or contact our sales at sales@sh-sinpar.com.